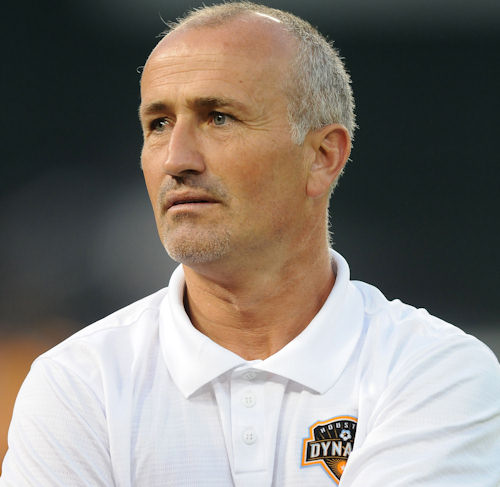 By Michael Lewis – NEW YORK, NY (Oct 27, 2010) US Soccer Players -- For someone who has known nothing but success in Major League Soccer, missing the playoffs for the first time in 12 years did not sink in for Houston Dynamo coach Dominic Kinnear until he was driving to Robertson Stadium for his team's regular-season finale on Saturday.
"We knew it was the last game of the year," he said. "But when you look back at the last four years, our last game of the year would have been the Western Conference final, a playoff defeat,, or winning two cups. So driving to the stadium didn't have the same sense of butterflies and nerves it has in the past years. So, it's a new experience all around."
Indeed, the last time Kinnear did not participate in the MLS post-season as a player or a coach was in 1998 - Doug Logan was commissioner back then - when the Tampa Bay Mutiny failed to reach the post-season. Kinnear was a player then, a former US National Team player (54 appearances).
To many fans today, the 43-year-old Kinnear is better known as the coach who guided the Dynamo to back-to-back MLS Cup titles in 2006 and 2007. He also was an assistant coach on two San Jose Earthquakes championship sides in 2001 and 2003. So, not playing in late October and November certainly is foreign territory. The Dynamo (9-15-6, 33 points) finished in 7th-place in the Western Conference.
"It was very difficult," Kinnear said earlier this week. "When you look back at one point we were 5-4-1. The first third of the season went good. The middle third was really difficult. As any coach will tell you if you lose more games than you win, the season's difficult already with challenges. It was definitely a rough season."
Still, the first day of the off-season did not mean vacation time. Kinnear went to the Brazilian consulate in Houston to obtain a visa. He plans to take a scouting trip to Brazil. He also met with the Dynamo team administrator to go over some pre-season trips in 2011. Kinnear said the Dynamo will begin its player-coach exit meetings on Thursday.
Kinnear realized it was going to be tough going after US internationals Stuart Holden and Ricardo Clark decided to pursue careers in Europe and Wade Barrett retired to become an assistant coach. Add defender Geoff Cameron's knee injury that kept him out of half the season and Brian Ching's recurring knee problems and you had a recipe for a long, long season.
For Kinnear, the season simply "didn't go as expected. Even looking at the locker room on the last day of the year, I thought I had the squad to make a push for MLS Cup. I think if we would start the season all over again with the same group of guys, I think it would go different. With Ricardo and Stuart and Wade Barrett, it was a little bit much. Obviously, with Geoff Cameron going down early in the season that didn't help us out…. We didn't have a lot of opportunities to get ourselves back into the playoff race. In the end, we didn't."
Houston started looking toward 2011 when the Dynamo traded midfielder Brian Mullan to the Colorado Rapids for midfielder Colin Clark and allocation money on September 15th.
"That was an idea for 2011," he said. "After that the consideration was to try to get to the playoffs. I wanted my full attention to be on the games because you want to win as many games as possible and if you start something else and your record is worse than what it could be and it makes you feel worse then you already do. I'll take a couple of days, after these exit meetings and after the expansion draft, we'll know what we need to do."
After failing to reach the post season, Kinnear won't be fired. Let's face it. He certainly has accrued enough coaching capital from his previous accomplishments to continue on. But Kinnear also realizes memories fade quite quickly in professional sports. It's not about what you have done then, but what you have achieved today.
"I feel fine," he said. "I'll be honest with you. I worry about my job every day. Backing or not, I understand professional sports. If it was all based on past success, then nobody would really lose their position. The management from all accounts are behind me. Like I said, I worry not because I've won or whatever else - and this year has not gone well. Even when we're winning, I still worry about my job all the time. Once you rest and think you're there, then you lose your desire to win and to compete."
"That's really a fear for me," he continued. "I'm afraid of losing. I think that's what drives every competitive person. Everyone loves to win. Everyone loves it and enjoys winning. If you've really, really fearful of losing and you're scorn for losing is there, I think that's what drives you."
As for picking an MLS Cup champion, Kinnear did not make any predictions as to which team will parade around with the Philip F. Anschutz trophy at BMO Field on November 22nd.
"I'm staying out of that one," he said. "It is as even a group as we have seen. That's what I can say. Look how early the playoffs were pretty much secured. It was kind of jockeying for position. The point gap between the last playoff team shows you that these teams can put a run of results together. A lot of it is built on defensive statistics and that's what makes everything even.
"Even if you look at San Jose, San Jose may have or tied their shutout record for the Earthquakes/Clash. Everything that they've won, which points to Chris Wondolowski's goal-scoring, which is incredible this year. But i think their team defending has really put them in a position as to where they are."
Wondo has enjoyed an incredible season, capturing the MLS Golden Boot with 18 goals. When he was with the Dynamo (and the 2005 Earthquakes), the 27-year-old has scored four goals in 39 games. Wondolowski, who was traded to the Quakes for Cam Weaver last year, didn't play regularly, but then again, he had some pretty decent goal-scorers in front of him.
Wondolowski's success hasn't surprised Kinnear, but the quality of goals he has scored is another matter.
"If you look at his history in the reserve league, he was up there," he said. "When he was here. and we had Brian Ching and Dwanye DeRosario and others, but Wondo was the best finisher in training. He has good balance. He's got good two feet. He's always moving. Therefore the ball finds him, but I think he is on a path to find the ball just by his movement."
"Surprising? Yes, when I watch some of the goals he scored this year. He's humble, got a great disposition. Everyone knows him is happy that he's done so well this year. He has raised some eyebrows, even the guys who know him the best. I think we all can say, 'Why is Chris scoring so many goals?' You can say, the guy is a great finisher. If you give him opportunities, he can score some goals this year.
"He doesn't need a handful of chances to score a goal. He needs maybe two or maybe three. He hits the target so often in practice. I'm not surprised that he's scoring goals, Look at the chances he has been given. Some of the goals, look at DC a couple of weeks back, a one-time ball was a pretty spectacular goal. He's on a bit of a roll right now. He's on a hot streak or in zone. He's finding himself in good positions. He's not rattled. He's confident."
Michael Lewis is the editor of BigAppleSoccer.com. He can be reached at SoccerWriter516@aol.com.