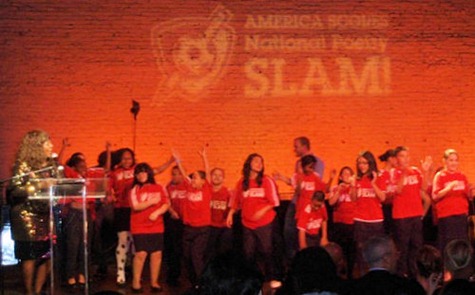 By Cesar Diaz – HARLEM, NY (Apr 13, 2011) US Soccer Players -- Monday, April 11th, 2011 was the day when soccer finally arrived at Harlem's World-famous Apollo Theater. Considered by many as the place "where stars are born and legends are made," the Apollo Theater enthusiastically welcomed the nonprofit organization America SCORES through its historic doors.
Dedicated to empowering students in urban communities through soccer, writing, and community service, America SCORES made it possible for 30 of their best poets - two children from each of their 15 chapters - to perform on stage at the Apollo for their 5th Annual National Poetry Slam.
With the rise of obesity and asthma mixed with low reading scores the children of this country continue to produce, they are in danger of never reaching their full potential. Along with the breakdown of family dynamics and the elimination of after-school programs and non-profits, a service like America SCORES is doing its part in addressing the needs of children.
Hosted by Rock & Roll Hall of Fame artist Martha Reeves of Martha & the Vandellas, Martha entertained the audience by singing "Dancing in the Street."  As the audience swayed and danced enthusiastically to Martha's performance, all 30 young performers came out to the stage and seemed primed to demonstrate why they were the best of the best in their respective America SCORES chapters as they introduced themselves to the audience.
By auditioning and beating out close to a national total of 6,000 children, these kids were the stars of the show. For some, this was their first trip to New York City.  For others, it was their first experience on a plane. Dressed in their America SCORES soccer jerseys, they were ready and determined to share a glimpse of their lives with the audience through their poetry.
As they joined the likes of James Brown, Ella Fitzgerald, Marvin Gaye, Diana Ross, and Duke Ellington to set foot on that famous stage, these children were poised and eager to entertain the audience while making their relatives proud. While none of them dribbled a soccer ball that evening, they did a marvelous job in dazzling and wowing the audience with their words.
While some voiced their opinion about standardized testing, others talked about their families and communities. Some revealed their dreams and fears while others realistically wondered why things are the way they are in their lives. Judging from the audience's reaction, these children did a marvelous job in being heard and clearly understood.
For many of these young performers, a piece of paper is similar to a soccer field in the sense that it's the only outlet for them to truly express themselves. The same manner a pitch allows a player to play, a piece of paper empowers them to hone their skills as they explore their creative capacity.
Whereas the children were the stars of the night, America SCORES Honoree of the Night was Kathy Carter, President of Soccer United Marketing (SUM). Along with overseeing the commercial and marketing aspects for Major League Soccer's commercial subsidiary, Kathy also serves as the US representative on FIFA's Committee for Women's Football and the FIFA Women's World Cup.
After accepting her award from Norma Barquet, America SCORES President and CEO, Kathy graciously and passionately talked about how rewarding soccer has been in her life.  She commended the children on their courage for performing in front of a live audience and encouraged them to continue playing soccer and writing.
Closing out the Poetry Slam was the Philadelphia-based musical group, The Great Unknown. Being the first band to work with SCORES students in DC, Cleveland, Milwaukee, Boston, and New York, they performed the song Decomposers and Producers, a song written by the students of America SCORES NY and arranged by The Great Unknown.
Following the Poetry Slam, the majority in the audience remained so they can congratulate each performer for their memorable performance. Also remaining was Martha Reeves, graciously giving time to anyone who wanted a picture.  While the remaining audience was treated to coffee and dessert, many placed their bids on the items on display for the silent auction.
While the 5th Annual Poetry Slam was a night honoring the young performers and America SCORES, it was also a reminder of the goodwill that soccer has time after time continued to inspire worldwide.  As America SCORES moves forward with their intentions of creating a chapter in every state, the importance for volunteers was clearly addressed. With the all cutbacks that are occurring in response to the economic downturn, the only thing that isn't being downsized is the need for volunteers.
So if you're able to help or donate to America SCORES in any of their 15 sites, please do so. To learn more about America SCORES, visit: www.americascores.org
Cesar Diaz recently joined USSoccerPlayers.com. In addition, he covers soccer for LatinoSports.com. Easily accessible, you may contact Cesar at cesar@latinosports.com and at Twitter @CoveringSoccer.