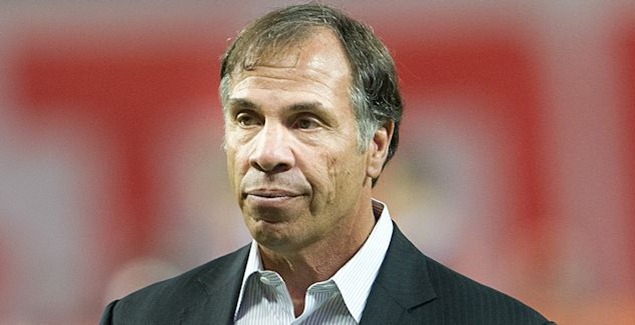 By Jason Davis - WASHINGTON, DC (May 2, 2012) US Soccer Players -- In the late stages of a game they had no business losing, the LA Galaxy desperately needed a goal. LA's collection of renowned stars and their role players failed to produce a goal despite plenty of possession. The Galaxy wasted chances. They missed a penalty. They simply could not, despite their best efforts, break through a less-than-convincing FC Dallas defense to get a goal and even the game.
Fortunately, Galaxy coach Bruce Arena spent the offseason building club depth on a scale that led to cries of foul from opposing fans. The Galaxy had a stockpile of allocation money and used it to great effect.  Just how much was on the minds of lots of MLS watchers, but the result was there for all to see.  
When the troublesome situation arose, Arena had options. He used all three substitutes against Dallas, inserting Adam Cristman and Chad Barrett in the 76th minute, then bringing on veteran Pat Noonan 9 minutes from the whistle. Of course, you already know that it was Noonan who finally saved the Galaxy. He scored the equalizer from a Barrett pass, salvaging a point.
Meanwhile, in New Jersey, the Red Bulls managed to limp to the finish with a 1-0 win over the New England Revolution at Red Bull Arena. The score line might have been larger had the Red Bulls not lost Thierry Henry to a hamstring injury in the 30th minute. Henry represented nearly all of New York's attacking prowess, scoring the lone goal himself and spearheading the Red Bulls' offense. When Henry left, the Red Bulls took a measurable step back in their ability to threaten the Revolution defense. The remainder of the game served as a commentary on just how reliant New York is on their superstar, and how little punch they have elsewhere on their roster.
Hans Backe didn't have any real threats, veteran or otherwise, in reserve. There's no Pat Noonan, a proven MLS goal-scorer, on the bench. New York doesn't have an Adam Cristman or a Chad Barrett, experienced players ready to step in and take advantage of a tired team with speed and work rate. Kenny Cooper is on a hot streak, providing a complement to Henry and his rampant goal-scoring ways, but the American forward's influence waned sharply without Henry pulling the strings behind him. When the New York head coach looks down his bench, particularly with Juan Agudelo out injured, he isn't looking at a group of players that instill much confidence.
Can you ever have too many forwards? Of course, especially if it means neglecting other areas. LA's defense has been their biggest problem to this point, so perhaps Arena placed too much value in having cover at forward during a very busy season. He didn't count on Omar Gonzalez returning from a European training stint with a torn knee ligament, but then good (relatively cheap) defenders are tougher to find than reserve forwards. In retrospect, LA needed another defender or two but that's easier said than done. 
Arena will be leaning on that forward depth as his team hits Seattle tonight. Robbie Keane and his aging knees will be left behind in LA, spared the trouble of playing on CenturyLink Field's artificial turf. Possessing a ready fill-in for Keane is more the type of situation for which Arena was preparing when he held on to Barrett and Cristman and added Buddle and Noonan in the winter, but Saturday's draw was an example of another benefit. When he needed someone that could score a goal, Arena had options.
It's debatable whether he needed all three of the players he sent on to get the job done, but the end result makes the question moot. He could throw everything against the wall, so he did. The three players Bruce Arena put into the game against Dallas on Saturday in search of the tying goal have nearly 100 MLS goals between them.
Depth is a luxury most MLS clubs can't afford. It's why New York counts such little experience among their forward core. That lack of proven ability will be in the spotlight for the foreseeable future as the Red Bulls deal with a crushing load of injuries. Rather than start a player without a track record, however, Hans Backe is just as likely to move Dane Richards to the forward line. It's a reasonable stopgap, but with their midfield decimated as well, moving Richards up means creating a new hole behind him.
Backe's hands are tied. Again, New York's lack of flexibility makes LA's hoarding look smart.  It goes to show why so many MLS teams will take a risk to bring in yet another forward.
Injuries, fatigue, and ineffectiveness are part of the game. First-choice starting elevens don't win championships all by themselves. The scramble to collect players that won't just take up space on the bench, but can actually make a contribution if called upon, is just as mad as the hunt for a game-changing star player.  With a long season in front of them, the Galaxy built to create options that other teams won't have.
Jason Davis is the founder of MatchFitUSA.com. Contact him: matchfitusa@gmail.com. Follow him on Twitter: http://twitter.com/davisjsn.
More From Jason Davis: