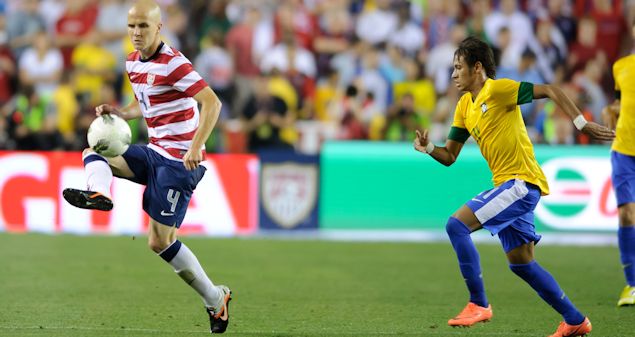 By Tony Edwards - San Jose, CA (May 31, 2012) US Soccer Players -- In Thursday's column, Tony registers the number of completed passes for Michael Bradley against Scotland, checks in on Pablo Mastroeni's recovery from concussions, and finds Sporting Kansas City's local advantage.
How many passes did Michael Bradley complete against Scotland this past weekend?
Sixty-three, according to ESPN's Five Aside blog. This is apparently a season-high of completed passes for Bradley, who topped out at 55 during Serie A. The article also notes Bradley completed more than 400 more passes than any other member of his club team, Chievo Verona.
How is US National Team Player and Rapids captain Pablo Mastroeni doing as he recovers from a concussion?
The positive side is that he's "beginning to feel better" and strictly following the League's concussion protocol. There's no timetable for him to return to the playing field. Mastroeni suffered the initial concussion last October and then a "knock to the head" in the season-opener against Columbus.
While the League and the Rapids are to be commended for taking Mastroeni's recovery so seriously, describing his condition as "headaches" doesn't help advance the discussion about concussions and their effects.
What is an unexpected advantage Sporting Kansas City has found in the Kansas City sports landscape?
An ownership group that is "hypercompetitive" and local.
"Hopefully they'll say we're winners," CEO Robb Heineman told Kansas City Star columnist Sam Mellinger. "That we're winners and that we're local."  Mellinger acknowledges the Chiefs are the top team in Kansas City and the Royals still average more attendance than Sporting, but that through hard work, a winning team, and a new stadium, Sporting has earned a seat at the table in Kansas City.
Considering the state of local coverage of MLS teams in a lot of markets, that's a very important step.  Local coverage especially in the contracting world of newspapers isn't what it was in a lot of MLS markets.  Though the internet plays an important role, local media still build local connections in a way that's difficult for websites.
For all the attention going to the reaction of Real Salt Lake's Jason Kreis, how about the coach who masterminded the Minnesota Stars' upset on Tuesday evening?
Former US National Team member Manny Lagos rested some of his starters in their NASL game on Friday in Tampa, giving his team "more rested starters" than Salt Lake. And it paid off with Minnesota's 3-1 victory.
Lagos has the league-owned and operated Stars undefeated after eight games this season and onto the next round of the US Open Cup against San Jose (who drew about a tenth on Tuesday night what RSL did). After winning the NASL championship last Fall, one would think Lagos is on the radar of every struggling MLS club.
On Tuesday, we looked at Kei Kamara's contributions to Kansas City's win over San Jose, including his pass completion rate (23 successful passes, 19 unsuccessful ones). In the comments, it was asked how his rate compared with other forwards?
Never let it be said that we don't acknowledge insightful comments, or welcome ideas for questions.
Perhaps not surprisingly, Kamara's pass completion rate suffers compared with other forwards from this past weekend. For Houston, for instance, Will Bruin had 29 successful passes and only 6 unsuccessful ones. Caleb Carr's numbers were 36 and 5. Fredy Montero of Seattle had 33 and 8. Even San Jose's Alan Gordon, not known for his touch, recorded 20 and 5.
Kamara's teammate, CJ Sapong, had 19 and 9 and fellow US National Team Player Juan Agudelo, adjusting to a new team, was 22 and 15.
It's far too simplistic to equate one statistic with a forward's worth. Agudelo and Sapong both scored. Houston had more than 60% of possession in its win over Los Angeles, to which Carr and Bruin contributed significantly.
---
More Questions: