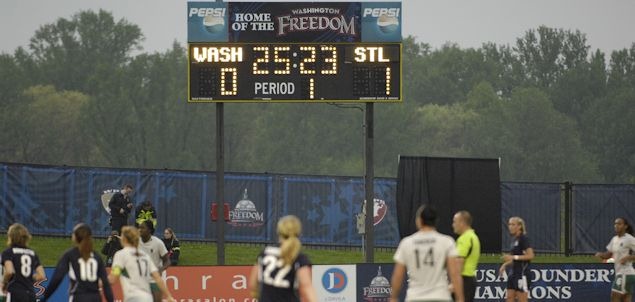 By Charles Boehm - WASHINGTON, DC (July 11, 2012) US Soccer Players -- United States National Team captain Carlos Bocanegra made a bit of a splash this week, taking a VIP turn at baseball's All-Star Game festivities in Kansas City and appearing in ESPN's attention-grabbing "Body Issue." Both are mainstream media hits that probably offer welcome diversions from the ongoing ambiguity about the future of his bankrupt Scottish club, Rangers FC.
He also attended a Sporting KC game. Speaking to SKC TV, he adeptly fielded the inevitable questions about a possible return to Major League Soccer and lamented the effect of financial calamities that plunged Rangers, also home to Yanks Maurice Edu and Alejandro Bedoya, toward oblivion and/or a new start in the lower divisions.
While I wish that storied club no harm, it's somewhat comforting to see the doubt and turmoil unfolding on the other side of the Atlantic for once.
Over the weekend, I attended my first-ever W-League match. DC United Women defeated the Dayton Dutch Lions 4-1 on a pretty Saturday evening at the Maryland SoccerPlex in Germantown, Maryland. A division of the United Soccer Leagues, W-League describes itself as "pro-am," meaning that its ranks contain both current and former professionals and young amateurs still maintaining college eligibility. It's roughly analogous to the Premier Development League, which sits on the fourth tier of the North American men's soccer pyramid.
Yet with the implosion of Women's Professional Soccer this past spring, W-League and its more loosely-structured rival the WPSL now constitute the top level of the women's game in this country. Saturday's contest featured one current US Women's National Team member, an English international, a US Under-17 star, and several other standouts with international soccer experience either in their past or their future.
This is the league Women's soccer has at the moment, and they're happy to contribute what they can and reap whatever benefits it may offer. After the game I spoke to Becky Sauerbrunn, who traveled to Great Britain with the US Olympic squad this week. She was grateful for the chance to stay sharp with United Women between US National Team gatherings as she and other elite players survey their sport's uncertain landscape.
"It is tough, and that's why I think a lot of us are holding out hope that some sort of pro league will come back, and I know that a lot of girls are looking to play overseas, where the leagues are a little bit more concrete," she said. "I am planning on playing soccer for as long as my legs allow me to."
It wasn't so long ago that our nation's most talented men faced a very similar situation. Younger generations are coming of age in a world where MLS and its continued existence are more or less taken for granted. Top US National Team members are valued commodities in prominent European leagues and the team itself is an accepted contender, even if not yet the world powerhouse that so many of us believe it can be.
Beyond the fate of Rangers' US contingent, the other leading topic of speculation is Clint Dempsey's next club destination. Will he get the UEFA Champions League opportunity he craves, or might he "settle" for a move to Liverpool FC, where the history, salaries and trophy case are the envy of most of the planet?
Yet in the run-up to the 1994 World Cup, an American player of his stature faced options more akin to Sauerbrunn's. Try to derive as many benefits as possible from national team camps and residency, or chart an individual path in search of obscure opportunities overseas or in lower leagues stateside.
Even if MLS had failed – a prospect which was not quite so remote just ten years ago – and nothing had risen to replace it, the youth, college and amateur systems would carry on producing players. The national team technical staff would continue to sift through the resources at their disposal. Perhaps the world game's strong growth would have still offered chances to make a living elsewhere.
But of course, those limited career prospects would hardly be appealing to our best and brightest. Competition levels would be nowhere near what they are today. And the process of collective maturation being guided by current coach Jurgen Klinsmann – the quest for that elusive "next level" – would remain a fantasy, a glimmer in the eyes of our sport's wildest dreamers.
So while we debate our domestic scene's strengths and weaknesses, lament its place behind the European elite in the glamor rankings, and ponder the best way to power the national team beyond its current plateau, there's never a bad time to give thanks that there's even a domestic scene in the first place. Bocanegra, Edu, Bedoya and all those Americans who, for various reasons, find themselves buffeted by wavering fortunes abroad can return home to a steady paycheck and a decent place to play.
That's more than Sauerbrunn and her teammates can look forward to when they leave London, regardless of whether they're wearing gold, silver or bronze.
---
Charles Boehm is a Washington, DC-based writer and the editor of The Soccer Wire. Contact him at:cboehm@thesoccerwire.com. Follow him on Twitter at: http://twitter.com/cboehm.
More from Charles Boehm: