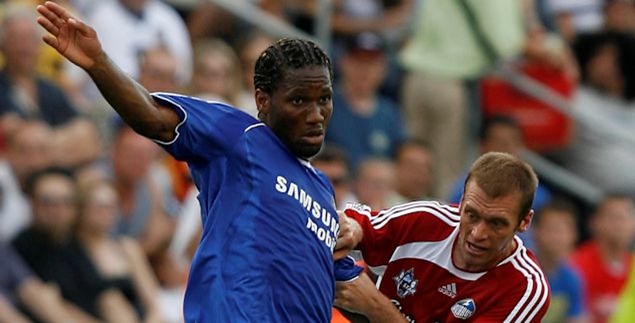 By J Hutcherson - WASHINGTON, DC (July 25, 2012) US Soccer Players –  The now-19 players selected to represent Major League Soccer against Chelsea find themselves in an interesting situation later tonight (ESPN2 - 8:30pm ET).  In a game that once gave us Landon Donovan's impromptu tribute to Julie Foudy, the game has become more pressure test than fun.  MLS went one step beyond Major League Baseball, a league that revamped waning interest in its All-Star Game by making it count for home field advantage in the World Series.  Instead of coming up with some incentive within the borders of the league, MLS went international. 
As choices go, this one was not without its downside.  The opponent does nothing to get to the All-Star Game.  There's no entry requirement beyond availability.  A team on tour with an open date, the bigger name the better, and we have our All-Star opposition.  What this means to the players on the other side of the field is a good question.  They got their through public vote and merit based on performance over the first-half of the season.  Their results show.  Relative only to MLS and its level of play, these are the best players available.  Putting them up against the European champions in the middle of their preseason isn't as much challenge or even reward as it is an opportunity.  Not for the players per se, but for the League. 
None of this is new information.  When the All-Star opponent was a regional club power or an English club with an American connection, it was the same basic issue.  What message is the League sending, not so much in their choice of opponent but in their internal understanding of what an All-Star Game should be? 
It's not fun seeing a league's star players lose to a club that can and does outspend the entire league.  That's the old North American Soccer League complaint, where one team has such a financial advantage that competition is sacrificed.  MLS has to look to the outside to create the same disparity.  It's a mix of metaphors that only rarely flatters this League. 
MLS true believers can point to when the All-Star Game has ended with the MLS side winning.  That role of honor in no way counters the losses, and all involved know that.  You can't counter losses to Manchester United with wins over Chivas, Fulham, West Ham, or even an earlier version of Chelsea.  Sports doesn't work that way, amplified by last year's game when Manchester United looked like a team in training and won 4-0. 
Amplifying all of this was yesterday's announcement that MLS had agreed to Chelsea's modest proposal that each team should be allowed ten substitutes.  Ten substitutes?  This is a game meant to display the best MLS has to offer in a unique setting.  An All-Star squad with limited training time together going up against a European power.  Now, it's just another opportunity for a European power to test the limits of its travelling squad. 
If anything, MLS should've negotiated in the opposite direction for the All-Star Game.  Though there's the pressure to play as many All-Stars as possible, that discounts the MLS format.  When once upon a time this game was limited to MLS players, using everyone made sense.  Now?  It makes a difficult assignment far worse.  Professional soccer coaches aren't supposed to have what amounts to unlimited options.  The game works within limits.  There's a reason it took so long to allow substitutes at all, much less increasing that number to three.  Take that away, and with it goes the structure of a top professional game.
Chelsea have a job to do in the United States.  Fair enough, but that doesn't mean treating the All-Star Game as yet another friendly.  Win or lose, that's the message from the 2012 All-Star Game.  MLS seems to be willing to do whatever it takes to be a flexible host, even if it means agreeing to terms that are detrimental to the event. 
Once upon a time, the All-Star Game was a fun event.  There was a skills competition shown on late night cable television.  Goalie wars, soccer tennis, and players in a setting where the mood was competitive but engaging.  Other All-Star events in North America pro sports have shown that any format eventually grows stale and needs work.  MLS was proactive in revamping their game.  Things have changed, but not necessarily for the better. 
---
Comments, questions, solutions to problems that have yet to present themselves.  Please, tell me all about it.
More from J Hutcherson: