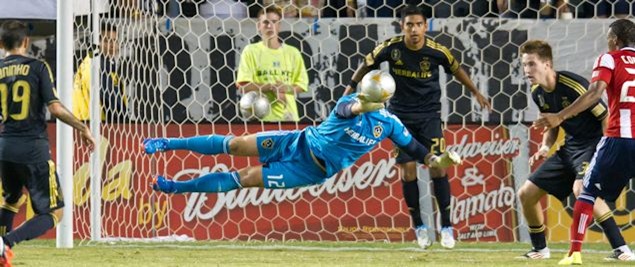 FC Dallas made the big statement over the weekend in the only way that counts.  They scored a bunch of goals, five in fact while shutting out Portland at FC Dallas Stadium.  Ok, technically Dallas only scored four. A Portland own goal opened the scoring in the 16th minute and Andrew Jacobson made it 2-0 at the half.  Three minutes after the break, it was 3-0 Dallas from a Jackson goal.  Scott Sealy added a fourth in the 69th and Ruben Luna finished off the scoring in the 81st minute.  Jackson assisted on the 4th and 5th goal, enough to put him in the conversation for Player of the Week honors.   
"Jackson has worked so hard since he's been back," Dallas coach Schellas Hyndman said. "What a lot of people don't know is we did the yo-yo [beep] test about three weeks ago. He finished off the charts. He got a 31. The team average is 21. I ask him what's going on, and he says he's working out twice a day. He's wanted to help the team, and although he hasn't put himself in front of a goal as much, now that we have people who can utilize his speed, I think you'll see him as more of a threat."
If you prefer your shutouts multi-goal, Houston satisfied at home with a 3-0 win over Montreal.  Macoumba Kandji opened the scoring in the 7th minute.  Bobby Boswell made it 2-0 in the 84th and Kandji scored his second five minutes later.  The Galaxy also scored three goals but didn't get the shutout in a 3-1 Clasico win.  The Galaxy goals came from the usual suspects.  Robbie Keane opened the scoring in the 14th minute off an assist from David Beckham and Juninho.  It was Landon Donovan's turn in the 48th, with Keane and Beckham providing the service.  Paolo Cardozo cut the lead in half for Chivas USA in the 52nd.  Donovan scored again in the 78th minute with Brian Gaul and Omar Gonzalez assisting.  Gonzalez subbed on in the 68th minute. 
"The team is performing better," Keane said. "We're playing better as a team so, it's simple as that really. We have the same team we had last year when we were playing well. Some reason or another, before the break we weren't playing well as a team."
New York got the early start on Saturday, taking care of Philadelphia 2-0 in front of 21, 842 at Red Bull arena.  Kenny Cooper scored in the 43rd and 58th minutes.  In Columbus, a 46th-minute Chris Birchall goal was the difference in a 1-0 win over DC.  Sporting Kansas City and New England ended 0-0.  Real Salt Lake continued the shutout trend with a 2-0 win over Colorado at Rio Tinto Stadium.  Alvaro Saborio opened the scoring in the 32nd minute.  Will Johnson doubled that in stoppage time.
In Sunday's game, Vancouver beat San Jose 2-1.  Dane Richards put the Whitecaps ahead in the 20th minute.  Alan Gordon equalized for San Jose in the 38th, but Barry Robson scored Vancouver's winner in the 62nd minute.
What Did We Learn?
1. Toronto will move quickly under Steve Mariner.  In response to losing their best offensive player to injury, they announced trades to bring in Eric Hassli from Vancouver and Quincy Amerikwa who was technically attached to New York.   We already knew players would make quick exits. 
2. There might not be a convincing answer in Portland this season.  "We had people quit tonight and that's not me throwing players under the bus," coach Gavin Wilkinson said. "It's a reflection on the organization and Merritt won't stand for it. The organization won't stand for it and everybody is going to go in the same direction or we're going to run into problems."
3. With the help of the World Football Challenge, there were 17 games involving MLS teams in Week 20.  If that sounds like a lot, that's because it is.  Sure, the other major North American sport that plays through the summer has no problem playing  15 games a day, but that's not the norm for professional soccer in this country.  There's also not enough of an indication that it should be right now. 
Top Five
1: Kansas City: To let you know how seriously we take our rankings, we considered sitting this week out. Last week's #1 managed to take a single point from two games, and no one in the top five pressed them.
2. San Jose: Lost to Vancouver.
3. Seattle: Didn't play a League game, so they keep their place.
4. New York: Yes, they lead the East with a win over Chicago and Philadelphia, but that doesn't take them out of the rankings last week to the top spot this week.
5. Chicago: Why not DC, who was ranked higher last week?  Because DC has played 33 games to Chicago's 31 and they're now even on points.