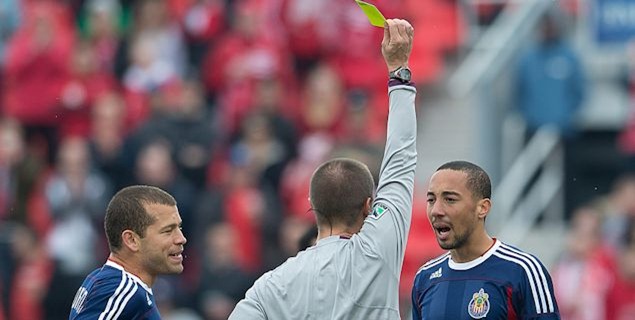 By Tony Edwards - San Jose, CA (July 17, 2012) US Soccer Players -- In Tuesday's column, Tony looks at numbers.  The number of homegrown players on FC Dallas's roster, the number of fulltime MLS referees, and a number from England's Premier League.
How many homegrown players are on FC Dallas' roster?
Seven, with the signing last week of 16-year-old Plano, Texas native Kellyn Acosta. Interestingly, with the acquisition of Designated Player Julian de Guzman, also last week, Dallas might be trying their own MLS version of the 'Zidanes and Pavons' policy followed by Real Madrid in the early 2000's.
New FC Dallas Technical Director Fernando Clavijo told MLSsoccer.com that the de Guzman acquisition did not affect Dallas' search for offensive talent.  "When I'm looking at how we can set up the future of this team today and in 2013 and more, we needed to do moves that don't compromise that," Clavijo said. "And this move didn't compromise anything whatsoever in the future of this franchise, so it's a win-win situation for us."
How many full-time referees work in MLS?
Two.  With other leagues moving to fulltime referees, this is an obvious step for MLS and the US Soccer Federation who provides match officials.  US Soccer's general manager of their Professional Referee Organization told ESPN that his job is about "improving the quality" even with the limited opportunities to make a living reffing professional soccer games. 
Peter Walton, the General Manager of the Professional Referee Organization, said that his task is to device and implement a 10-year plan to develop "world-class referees" in North America. "My hope is a 16- or 17-year-old kid in Nebraska will soon watch MLS on television, see the referees, want to be one and then work his way through to the World Cup."
Who was the first US National Team Player to lead the English Premier League in a statistical category?
If you've already gone ahead and limited it to goalkeepers, you're on the right track.  Former US National Team keeper Brad Friedel, who lead the Premier League in saves in the 2001-2002 season with 187, according to the fascinating '20 Years of the English Premier League: A Statistical and Informational Account' by Aaron Nielsen.  The PDF is available for download here. 
Friedel also holds the Premier League's ironman record, with 304 consecutive games played.  He's also the oldest player in Tottenham's history. 
So what is Vancouver getting out of the Dane Richards for Sebastian Le Toux deal?
Reading between the lines, Jack Bell in the New York Times' Goal blog just might think the Red Bulls got the better of the deal.  "Richards, usually playing on the right side as an attacking midfielder, is known for his speed." Bell wrote. "He is also known for a wretched first touch and a proclivity for sending poor crosses to the middle of the field. More often than not, his crossing passes sailed over the end line."
When is the last time San Jose won a League game 5-0?
In 2000, when they defeated the Dallas Burn. That was San Jose's first season as the Earthquakes, and they finished 7-17-8. In 32 games that season, the Earthquakes only scored 35 goals, meaning they scored a seventh of their total season goals in one game.
---
Tony Edwards is a soccer writer from the Bay Area.
More Questions: