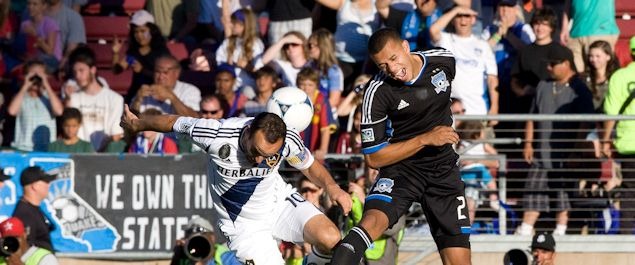 By Dario Camacho - MIAMI, FL (July 6, 2012) US Soccer Players -- A few weeks ago, I wrote about Real Salt Lake's rise to the top of the Major League Soccer standings. Finally, a team that seemed ahead of the pack, demonstrating skill, proving their worth to be the true contenders for the Supporters Shield and MLS Cup. Since then, they've promptly lost three in a row and tied against Seattle this past Wednesday. As a piece of advice to those following the season, don't bet on anything.
I've been eating my own words, considering how I gave RSL a pat on the back for their improved consistency this year, something they lacked in 2011. Now, the team looks to be in shambles and a slow deteriorating back line is raising some questions about their ability to keep clean sheets. With past, staunch defensive pillars in Jamison Olave and Nat Borchers conceding goals through personal mistakes, never mind the regular knocks and injuries that have sideline the likes of Tony Beltran, Chris Wingert and Olave, RSL have some massive questions to answer.
At least Jason Kreis is trying to put a positive spin on it stating, "I still believe in this group, they are going to need to lead themselves a little bit out of this," he said following one of the recent disappointing showings. How that translates to actually winning is an argument best left to their next game.
It's back to square one finding a team in the League that could be considered a true contender. But, truth be told, that's part of what makes this year a very interesting one. If anything, we are seeing a stupefying reversal of fortune for the "elite" of MLS, particularly in the Western Conference. Remember how easy it used to be to write off the East entirely. Remember how the West was the place where the real competitors played? Things have changed, and it seems to be catching every Western power at some point.
This was supposed to be Seattle's year. Instead, we could be seeing a team that peaked last year. Coach Sigi Schmid's words of "starting all over after three years" with a new team if it didn't win an MLS Cup by that point is starting to ring true. A tailspin to the middle of the table, only buoyed by teams worse off than them, Now, the Sounders are in the midst of an eight game winless streak, a streak that has them "soul searching" for an answer to their struggles. You could add LA to that category as well.
Both Seattle and LA are in the midst of a riches-to-rags descent into mediocrity, while San Jose has surprised everyone and climbed to the top of the heap. San Jose might be one-dimensional, but that can easily be the difference as now two-time MLS Player of the Month Chris Wondolowski is happy to show.
The East has its own share of surprises. With Sporting Kansas City sliding out of the way, any team from the middle of the pack to the top can rightly see themselves as the true power. DC is no joke, showing that they have a core and the skill to cause trouble for any and all opponents. Yet we've seen that before, and it certainly isn't a given that the dynasty-era United is back.
It's a caveat with every team in MLS: this is how things stand this week. Next week? Who knows. Some other team could do just enough to suggest they're better than their spot in the standings. A contender can fail. Reputations can quickly shift. With these dynamics in play, what an interesting season it's shaping up to be.
San Jose, top of the mythical single-table, beats the Galaxy in a game rightly lauded as standout for this or any MLS regular season. Then Portland has the Quakes number, and we're right back trying to tease out the real power in the Conference. A couple wins by any team and things could flip yet again.
This brings us back to the problem with Salt Lake this season: consistency. It's not just winning, it's understanding why draws and losses are happening. For a true contender to emerge, they have to know their own game well enough to avoid creating their own distraction.
---
Dario Camacho made the move from regular commentator as Pesmerga7 to columnist. He writes weekly for US Soccer Players. Follow him on twitter at DarCam7.
More from Dario Camacho: