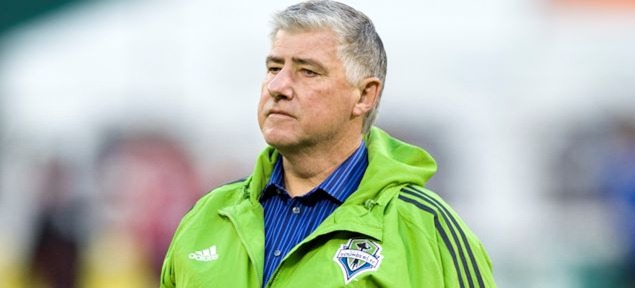 By Tony Edwards - San Jose, CA (Aug 7, 2012) US Soccer Players -- In Tuesday's edition, Tony parallels the situations in Seattle and New Jersey.
Is the big test for Seattle yet to come?
"It's a statement for ourselves," Sounders coach Sigi Schmid told the Seattle Times after his team defeated the Galaxy 4-0 Sunday.
He's right, this is the beginning of an opportunity for Seattle to make a statement. Seattle has two bigger games immediately in front of them. Wednesday they play Kansas City in the US Open Cup then Saturday evening they face San Jose at Buck Shaw.
Seattle might be seven points behind San Jose, but with two games left against the Earthquakes, plus games against Los Angeles and Salt Lake, plus the US Open Cup, plus the CONCACAF Champions League, does Seattle need to prioritize? Barring a major collapse, they're in the playoffs, but surely Seattle's ambitions aren't limited to just making the playoffs.
It seems you can ask this question at any point during their franchise history, but what's going on with the Red Bulls?
A friend texted me during Friday night's game asking if Hans Backe was the most clueless coach in the League. I have some sympathy for Backe, not much, but some, who is trying to patch together a team on the fly, and who is going to need every one of their 11 games remaining to figure out their best lineup. Friday was awful, with just five total shots and less than 48% possession after going behind early to the Dynamo.
Look, while there are problems in New Jersey, it's not like Red Bull Salzburg has been gracing the group stages of the Champions League either.  Those other Red Bulls have consistently thrown away winnable draws despite having, on paper, a better team.  That includes losing to a team from Luxembourg in the second round of the Champions League qualifiers. The problems run a lot deeper than Backe or the players.
How many players in MLS' history have played in 300 or more games?
Fifteen, with Colorado's Brian Mullan becoming the latest this past weekend.While the first thing people will consider is his tackle that broke Steve Zakuani's leg, Mullan, like Wade Barrett and Brad Davis, should also be remembered for his impressive collection of titles and Supporter's Shields. Never the most technical of players, it will be interesting to see if Coach Oscar Pareja continues the experiment of Mullan playing right back.
Which team in MLS keeps opposing goalkeepers busiest?
While Kansas City has the most total shots with 369, and San Jose the most shots on goal with 129, former US National Team player Jay Heaps's New England Revolution are putting 44% of their shots on goal, with 125 shots on goal from 287 total shots. Contrast that with Salt Lake, who have 102 shots on goal in the same number of attempts. Unfortunately, New England has only converted 26 of those shots into goals, tied for 11th in the League and a prime reason they are well outside the playoff spots.
During the Olympic men's basketball tournament, US player Kobe Bryant was asked by an opponent if Bryant would sign the opponent's shoes. Has that ever happened to US National Team Player Landon Donovan?
"I've never asked a player if they would sign my shoe. I've certainly had players come up, even before the game has started, and say, "Hey, after the game, can we trade jerseys?" It's kind of like, "Well, let's get through the game first and we'll deal with that later," Donovan told Esquire during a promotional interview for Gatorade's new importance of hydration campaign.
---
Tony Edwards is a soccer writer from the Bay Area.
More Questions: