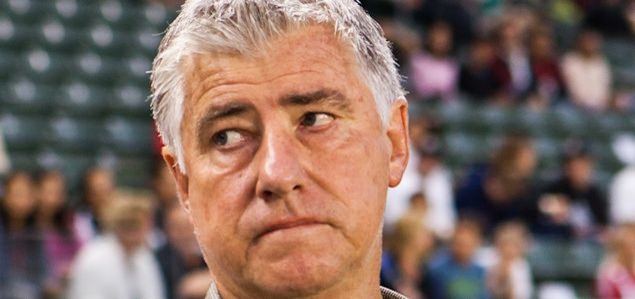 By Tony Edwards - San Jose, CA (Sep 25, 2012) US Soccer Players -- In Tuesday's column, Tony asks if it's bad coaching or the other team; looks at the playoff situation in the Eastern Conference, and has a follow-up to the rumored sale of the Dynamo.
Can even experienced coaches have a bad night?
Seattle's Sigi Schmid certainly did Saturday night.  With San Jose playing Simon Dawkins and Mehdi Ballouchy as wide midfielders, the Earthquakes were essentially playing a very narrow 4-2-2-2, with the only width coming from the fullbacks. Rather than find a way to exploit the space wide (Steve Zakuani might not be fit for an entire 90 minutes), Seattle persisted in trying to attack up the middle, and by the middle of the second half was reduced to lumping long balls into a packed box as San Jose took off attackers and added defensive midfielders and central defenders.
So Seattle both dominated possession in the second half and never really looked like scoring. San Jose's Frank Yallop got away with one, as his substitutions took off attacking threats like Dawkins, Ballouchy, and Baca, and added more bodies, basically daring Seattle to break through.  They didn't, and San Jose won at CenturyLink.
This coming weekend, with elimination games on Saturday and Sunday.
On Saturday, fourth-seed Carolina hosts fifth-seed Fort Lauderdale, while on Sunday third-seed Puerto Rico hosts sixth-seed Minnesota. In the home and home semifinals, San Antonio will play the lowest seed remaining, while Tampa Bay will play the highest seed remaining. The NASL Championship series (home and home) begins October 20 or 21 at the lowest remaining seeds' home stadium.  San Antonio is the NASL's regular season champions, with two names familiar to American soccer fans.  Their coach is former MLS coach Tim Hankinson and their #0 is MLS all-time leading scorer Jeff Cunningham.  MLS veteran Ryan Cochrane also plays for the Scorpions.
With four games left, does anyone want to win the Eastern Conference?
At this point, Chicago is as likely as any team to win the regular-season crown in the Conference. The Fire are two points behind KC, with the ever-famous game in hand.
Even being a man down doesn't excuse the Red Bulls being unable to get their first win in New England in more than a decade. The New Jersey franchise hasn't won a game on the road since mid-May.
Houston lost to a team 16 points out of a playoff spot and DC were lucky to squeak past Chivas USA at home. Compare those results to San Jose, Salt Lake, and Los Angeles stepping up this weekend and beating teams lower in the standings.  Though the disparity isn't what it's been in recent seasons, the East is still asking a lot of competitive questions none of their clubs seem willing to answer.
What happened to the rumored sale of the Houston Dynamo to Houston Rockets owner Leslie Alexander?
AEG rejected Alexander's offer, it was reported on Saturday in the Houston Chronicle.  Dynamo President Chris Canetti was short on specifics discussing why the offer was turned down. "Ownership evaluated the offer," Canetti said. "At the end of the day, they determined that they're not prepared to accept the offer, thus meaning they will continue in their ownership."
How did Vancouver do with a chance to take firm hold of a playoff spot?
Giving up an 86th minute goal, at home, to a team that is essentially buried is not how you become the first Canadian team to make the playoffs in MLS. Yes, the Whitecaps have a two-point lead on Dallas for the Western Conference's final playoff spot, and Dallas has a road game at San Jose on Saturday, but Vancouver has to play Seattle, in Vancouver, that same day. Vancouver does not benefit from Seattle needing to win to avoid the wildcard game.
---
Tony Edwards is a soccer writer from the Bay Area.
More Questions: