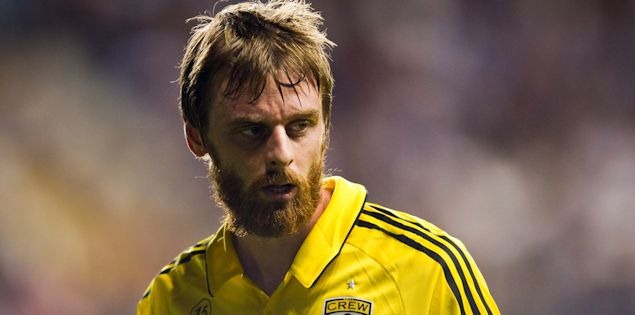 By Tony Edwards - San Jose, CA (Oct 4, 2012) US Soccer Players -- In Thursday's column, Tony looks at the impact two untimely injuries might have, asks when Chivas USA is going to score again, and salutes two players who more than put in a shift this season.
How much does losing
Mehdi Ballouchy
for the season hurt San Jose's chances in the playoffs?
More than you'd expect for a team likely to win the Supporter's Shield.
Shea Salinas is just getting back to playing. Martin Chavez and Simon Dawkins are hurt. San Jose isn't getting the width from their fullbacks. Rafael Baca might have hit a wall. All this is a long way of saying Ballouchy was the player with ideas for San Jose.
But San Jose keeps getting results Tony, that's all that matters. Fair enough, but West Coast catenaccio against Seattle and lumping long balls into the box to salvage a draw at home doesn't exactly scream 'peaking at the right time.'
Three games left in the regular season, his team struggling to maintain a playoff spot in the Eastern Conference, what's the last thing Houston coach Dominic Kinnear wants to have happen?
How to get his team a home playoff game? Running out of those 'DYNAMO' beanie caps he's favored? Not having enough Adidas-branded apparel to wear on the sideline? How about Brad Davis leaving practice after 10 minutes on Tuesday with a calf strain?
There's still a few days before Houston plays Montreal this weekend, and Montreal, like most of the teams in the Eastern Conference is lousy on the road (2-12-1).  Though we've already picked them as the team with the easiest route to a top-three seed in the East, there's still those games left to play.  As it stands, Houston could realistically finish anywhere from second to sixth in the conference.
Which team has gone the longest this season without scoring a goal?
Chivas USA, with no goals in over a month. 532 minutes since they scored, almost six full games.   Turning things around right now is almost irrelevant, with 2012 already in the rear view as the club tries to figure out what can make the difference next season.  We can assume they've already underlined 'goals' a few dozen times, but that's more than just having strikers running at will.  More often than not, MLS is about team effort, with multiple players involved in getting the ball in position to end up in the back of the net.  Chivas USA isn't scaring anybody right now, and that means they're playing at a disadvantage every time they take the field.
What do Houston and New York have in common? 
They're tied at the top of the table for best home win percentage in MLS at .833.  DC, San Jose, and Chicago round out the top five.  Why would a home win percentage stat feature four out of five Eastern Conference teams?  How about the strength of the Western Conference where home games aren't a guaranteed result.  The Supporters' Shield leading Earthquakes in 4th and Eastern Conference leaders Sporting KC in 9th in the home win percentage category is also an indication of what makes a good team in MLS.  It shouldn't surprise anybody that Sporting and San Jose are 1st and 2nd in road win percentage.
What field player leads the League in minutes played?
With three goals, two assists, and only 22 fouls committed in 2,790 minutes, Drew Moor of Colorado has played every minute of the Rapids' 31 games. On a similar note, Eddie Gaven has started 31 games so far this season for Columbus, already setting career high marks for minutes and games played.
---
Tony Edwards is a soccer writer from the Bay Area.
More Questions: