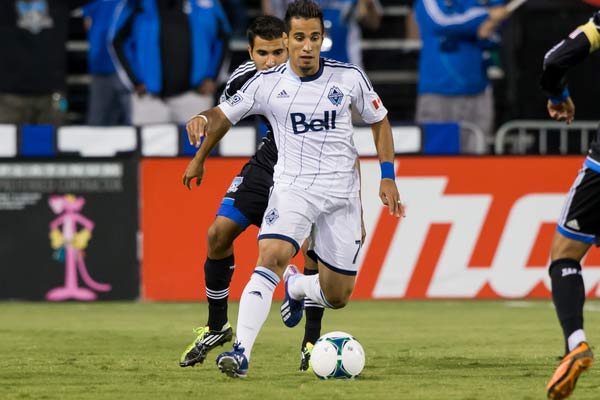 By Jason Davis - WASHINGTON, DC (Jan 9, 2014) US Soccer Players - Monday presented MLS observers with two competing realities backed by surreal images spread through the modern means of social media.
2013 MLS Golden Boot winner Camilo Sanvezzo is a Vancouver Whitecaps player. The Whitecaps are certain of it, and have the requisite contract to back up their assertion.
2013 MLS Golden Boot winner Camilo Sanvezzo is free to sign with any club he wishes. Camilo and his agent are certain of it, and have the requisite decisions from the highest courts in sport to back up their assertion.
Obviously, these two things are mutually exclusive. Camilo can't both be a Whitecaps player under contract for 2014 AND be free to sign elsewhere. Yet there he was, giving a thumbs-up and grinning while sporting the jersey of Mexican club Queretaro, looking for all the world like a striker cashing in on his excellent 2013 season with a move up in salary via a move down in geography. If there was any doubt that the images were faked or depicted a man wearing the shirt of the Gallos Blancos just for the fun of it, it was answered when the official Twitter account of Queretaro welcomed the Brazilian to the fold (said tweet has since been deleted).
Just in case it wasn't clear, Queretaro ascribes to reality number two (or at least they did when they first sent their tweet).
Meanwhile, back in British Columbia, the proverbial moose dung was hitting the fan. Whitecaps president Bob Lenarduzzi, sounding like a man realizing for the first time that duplicity exists in the world, expressed his dismay that his star forward would do something so "unacceptable and inappropriate." He maintained that Camilo remained a Whitecaps player, thanks to a contract option the club exercised back in November. Sure enough, the Whitecaps website shows a release dated November 28 announcing that the club exercised their option for Camilo and several other players for 2014.
The disconnect doesn't seem to be that Camilo isn't aware of the option. In fact, Lenarduzzi said that newly named Whitecaps head coach Carl Robinson called Camilo on Monday morning to remind the player that he was under contract with the Whitecaps. Instead, Camilo and his Brazilian agent are operating under the belief that the unilateral option held by the Whitecaps, the very same option the team says makes Camilo a Vancouver player this season, is invalid.
A few high profile cases heard by the Court for Arbitration in Sport (CAS) and FIFA's Dispute Resolution Chamber (DRC) on options that leave the player's wishes out of the process might back up Camilo's contention. That's if it weren't for the overarching FIFA regulation that provides for leagues to operate according to their pertinent national labor laws and any collectively bargained agreements. The club options included in MLS contracts were collectively bargained.
If Camilo did attempt to challenge the unilateral option, he would certainly cause a stir. No matter the perceived legality of FIFA's standing when it comes to MLS contracts, it's impossible to know what might happen should a player question their validity. All of the noise currently coming out of Mexico (and it could certainly change) indicates Queretaro believes Camilo has a good chance of getting out of his Whitecaps obligations.
This presents a conundrum for MLS and Vancouver. From a practical perspective, letting Camilo go is the prudent choice. His Mexican escapades so poisoned his relationship with both the club's front office and the fan base that it is in the best interest of everyone involved to send him on his way. The only problem with that scenario is that MLS can ill afford to set a precedent that their contracts are so easily broken, and that the unilateral options that are so valuable to their teams are invalid. The worst case scenario for MLS is a legal or FIFA challenge that ends with a decision in Camilo's favor. From there, a whole host of snowballing problems could shake the foundations of Major League Soccer's operating model.
Logically, the most likely resolution to Camilo's gambit is the player getting his way while Vancouver and MLS save face with a respectable transfer fee. That would set an MLS precedent, too, but it wouldn't be one that could threaten Major League Soccer's legal standing or cause trouble with the international soccer governing body. Instead, MLS would be just the latest in a long line of professional sports organizations hit by the growing ability of players to force a move through poor behavior. If Queretaro are amenable to paying something for a player they expected to get for free (far from a guarantee), all parties can claim some type of victory and move on.
Whatever the fallout from the controversy surrounding last year's top goal scorer, the incident does portend trouble for Major League Soccer. The league could figure out a mutually acceptable conclusion to all of this and still face a future littered with challenges to any number of its practices. The catch-22 of rapid growth and increasing relevance is more attention to the restrictive manner in which it operates and more challenges by players who find fault with the system.
More than a decade ago, MLS refused to settle the claims by players and went to trial to protect its claim to single-entity status in Fraser v. Major League Soccer. While they were successful in prevailing on that occasion (but the Court of Appeals did not accept the district court's view that MLS is a single entity), the win did not preclude future challenges. The MLS's victory in Fraser was based on a jury finding that there is a worldwide market for players in which MLS competes, and as a result it lacks market power. There is no certainty that a future jury will not find that there is, in fact, a United States market or a CONCACAF market for the services of at least certain players, a market in which MLS might very well have market power.
In order for MLS to maintain the status quo, it must be careful about the freedoms it allows its clubs even while relaxing the rules is necessary for continued growth. Nor did Fraser v. Major League Soccer preclude the league from facing questions on individual practices that adversely affect other markets besides player services.
In addition, it is not clear what law will be applied to challenges brought by players in the Court of Arbitration for Sport, which claims in many cases the right to apply its own "lex sportiva," a "law of sport," rather than the law of any particular country, at least when the dispute concerns sport participants from various nations. Sometimes the Court of Arbitration for Sport decides to apply the law of the international federation, in this case the Swiss-based FIFA. Centralized contract ownership is not the only strange thing MLS does to protect its budget-conscious ways.
Eventually, cracks will appear in the foundation and some enterprising player or group will attempt to bring it down. It might not be Camilo, and it might not be now. MLS surely hopes as much. But it will eventually come, and the strange saga of Vancouver's one-time golazo-scoring poster boy will be remembered as the first feint towards a new round of fighting.
---
Jason Davis is the founder of MatchFitUSA.com and the co-host of The Best Soccer Show. Contact him: matchfitusa@gmail.com. Follow him on Twitter:http://twitter.com/davisjsn.
More From Jason Davis: