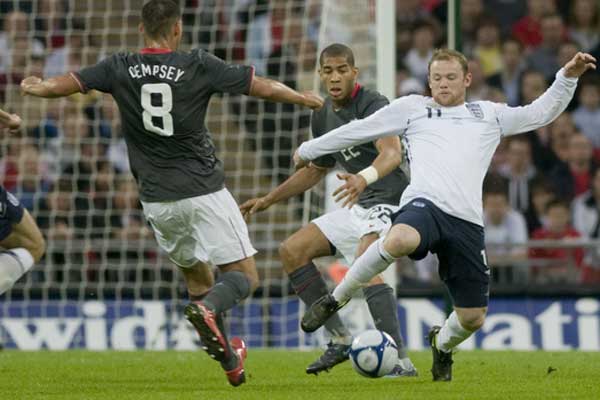 The USMNT moved up a spot to 16th in the September 2014 FIFA Rankings released on Thursday. The USMNT played a friendly during the rankings period, beating the Czech republic 1-0 in Prague. With Euro 2016 qualifying in Europe and the Copa Centroamericana for Central American teams in CONCACAF, there were changes throughout the rankings table. 
Mexico, who also played friendlies during the rankings period, is 16th. Costa Rica holds onto 15th-place after winning the Copa Centroamericana.
The USMNT plays twice during the October rankings period: against 21st-place Ecuador and 56th-place Honduras (who fell 13 spots after finishing 5th in the Copa Centroamericana.
FIFA Rankings
| | | |
| --- | --- | --- |
| Rank | Team | Points |
| 1 | Germany | 1765 |
| 2 | Argentina | 1631 |
| 3 | Colombia | 1488 |
| 4 | Netherlands | 1456 |
| 5 | Belgium | 1444 |
| 6 | Brazil | 1291 |
| 7 | Uruguay | 1243 |
| 8 | Spain | 1228 |
| 9 | France | 1202 |
| 10 | Switzerland | 1175 |
| 11 | Portugal | 1150 |
| 12 | Chile | 1100 |
| 13 | Italy | 1068 |
| 14 | Greece | 1052 |
| 15 | Costa Rica | 988 |
| 16 | Mexico | 963 |
| 17 | USA | 936 |
| 18 | England | 935 |
| 19 | Croatia | 928 |
| 20 | Algeria | 926 |
FIFA World Rankings: USA History

1993

Jan: n/a

Feb: n/a

Mar: n/a

Apr: n/a

May: n/a

Jun: n/a

Jul: 24

Aug: 28

Sep: 26

Oct: 26

Nov: 27

Dec: 22

1994

Jan: 22

Feb: 21

Mar: 21

Apr: 23

May: 23

Jun: 23

Jul: 22

Aug: 22

Sep: 22

Oct: 23

Nov: 24

Dec: 23

1995

Jan: 23

Feb: 22

Mar: 22

Apr: 22

May: 27

Jun: 34

Jul: 20

Aug: 19

Sep: 22

Oct: 19

Nov: 19

Dec: 19

1996

Jan: 15

Feb: 14

Mar: 14

Apr: 14

May: 14

Jun: 14

Jul: 17

Aug: 20

Sep: 18

Oct: 25

Nov: 16

Dec: 18

 

1997

Jan: 18

Feb: 22

Mar: 22

Apr: 21

May: 26

Jun: 26

Jul: 26

Aug: 28

Sep: 32

Oct: 35

Nov: 29

Dec: 26

1998

Jan: 26

Feb: 12

Mar: 16

Apr: 15

May: 11

Jun: 11

Jul: 19

Aug: 18

Sep: 17

Oct: 17

Nov: 22

Dec: 23

1999

Jan: 23

Feb: 23

Mar: 23

Apr: 24

May: 24

Jun: 31

Jul: 30

Aug: 21

Sep: 20

Oct: 22

Nov: 21

Dec: 22

2000

Jan: 22

Feb: 22

Mar: 20

Apr: 18

May: 19

Jun: 19

Jul: 20

Aug: 21

Sep: 19

Oct: 18

Nov: 18

Dec: 16

2001

Jan: 16

Feb: 16

Mar: 18

Apr: 18

May: 15

Jun: 17

Jul: 16

Aug: 16

Sep: 19

Oct: 19

Nov: 21

Dec: 24

2002

Jan: 24

Feb: 13

Mar: 13

Apr: 13

May: 13

Jun: 13

Jul: 11

Aug: 10

Sep: 8

Oct: 10

Nov: 9

Dec: 10

2003

Jan: 10

Feb: 10

Mar: 10

Apr: 10

May: 10

Jun: 9

Jul: 9

Aug: 9

Sep: 11

Oct: 12

Nov: 12

Dec: 11

2004

Jan: 11

Feb: 11

Mar: 12

Apr: 11

May: 8

Jun: 9

Jul: 7

Aug: 10

Sep: 10

Oct: 11

Nov: 11

Dec: 11

2005

Jan: 11

Feb: 11

Mar: 10

Apr: 10

May: 10

Jun: 10

Jul: 6

Aug: 6

Sep: 7

Oct: 7

Nov: 8

Dec: 8

2006

Jan: 7

Feb: 6

Mar: 5

Apr: 4

May: 5

Jun: 5

Jul: 16

Aug: 23

Sep: 29

Oct: 29

Nov: 31

Dec: 31

2007

Jan: 31

Feb: 28

Mar: 30

Apr: 29

May: 29

Jun: 16

Jul: 14

Aug: 17

Sep: 18

Oct:  18

Nov: 19

Dec: 19

2008

Jan: 20

Feb: 26

Mar: 28

Apr: 21

May: 21

Jun: 21

Jul: 30

Aug: 31

Sep: 28

Oct: 21

Nov: 24

Dec: 22

2009

Jan: 22

Feb: 20

Mar: 17

Apr: 15

May: 15

Jun: 14

Jul: 12

Aug: 12

Sep: 11

Oct: 11

Nov: 14

Dec: 14

2010

Jan: 14

Feb: 18

Mar: 16

Apr: 14

May: 14

Jun: 14

Jul: 13

Aug: 18

Sep: 18

Oct: 25

Nov: 24

Dec: 18

2011

Jan: 18

Feb: 18

Mar: 19

Apr: 22

May: 22

Jun: 24

Jul: 30

Aug: 28

Sep: 31

Oct: 34

Nov: 34

Dec: 34